Raise your hand if you're a coffee lover like myself! If I could, I'd drink coffee all day, everyday. And if I had the money, I'd go to Starbucks everyday. But, I can't so… I make this really easy, delicious, and inexpensive iced coffee at home!
It's only THREE ingredients – instant coffee, coffee creamer, almond milk (& water).
This is the order that I do it in, but my husband has done it differently and it still turns out delicious. You can experiment for yourself.
1 – Fill about 1/3 of the glass w/ Water
You can do more or less water than this if you want it to be more or less creamy.
2 – Add Instant Coffee
I've tried multiple brands of instant coffee, but this one has definitely been my favorite so far. The Nescafe Taster's Choice French Roast has a great strong flavor if you like dark coffee or espresso. Otherwise, their House Blend is also good. This brand is also the best for decaf! (I try to drink less caffeine while pregnant/nursing).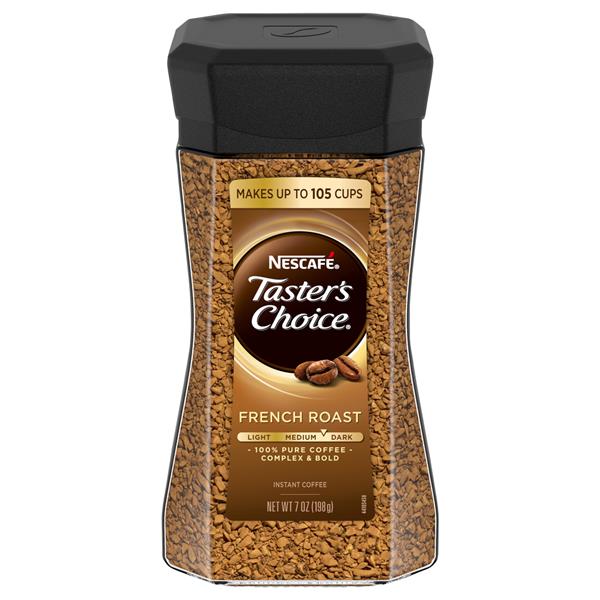 So, just add as much instant coffee as you want to the water and stir. In a glass like this, I do about 1.5 teaspoons.
3 – Add the Coffee Creamer
I've tried almost every creamer under the sun – they are all delicious! Again, add as much creamer as you want.
4 – Add Almond Milk
Sweetened, unsweetened… they're both good. Or add any type of milk you might have on hand… I'm sure it'll do! I usually pour until the glass is almost full to leave room for the ice.
5 – Ice it Up!
Just add the ice (carefully) to fill up the glass.
And that's it! It's no Caramel Macchiato, but it does the trick to save a buck. And it's really not bad on the ol' waistline if you stick to unsweetened almond milk.
---
If you liked this blog post, press like below! And if you want to share it with others, click the social media links below. And I would love to hear back from you… feel free to leave a comment!
Like any of the products I mentioned? Please purchase them via the links provided.
Want to be the first to know when I post a new blog post? Subscribe by entering your email at the bottom of the Home Page.
Your support is very appreciated!