This probably seems like a really random subject to write about, but I feel like I'm practically a sippy cup expert after trying so many different ones with Lily. So, here's all of the cups that we've personally tried and the pros and cons for each.
This Tommee Tippee transition cup was Lily's first sippy cup. We actually had to buy it when we went on a trip and this rookie mom forgot a bottle. So, it was great because Lily was still on the bottle and it comes with a regular nipple. The handles are easy for the little ones to grip. And then later, I used the sippy spout to start practicing just with water. It's also pretty easy to clean since it all comes apart.
A couple things I didn't like about it… The spout has to line up perfectly with the star on the lid in order for it to line up with the handles, which is not the easiest thing. Then, when Lily went to formula, the measurements just show odd numbers; and if you've ever used formula, you know that it goes in increments of 2 ounces.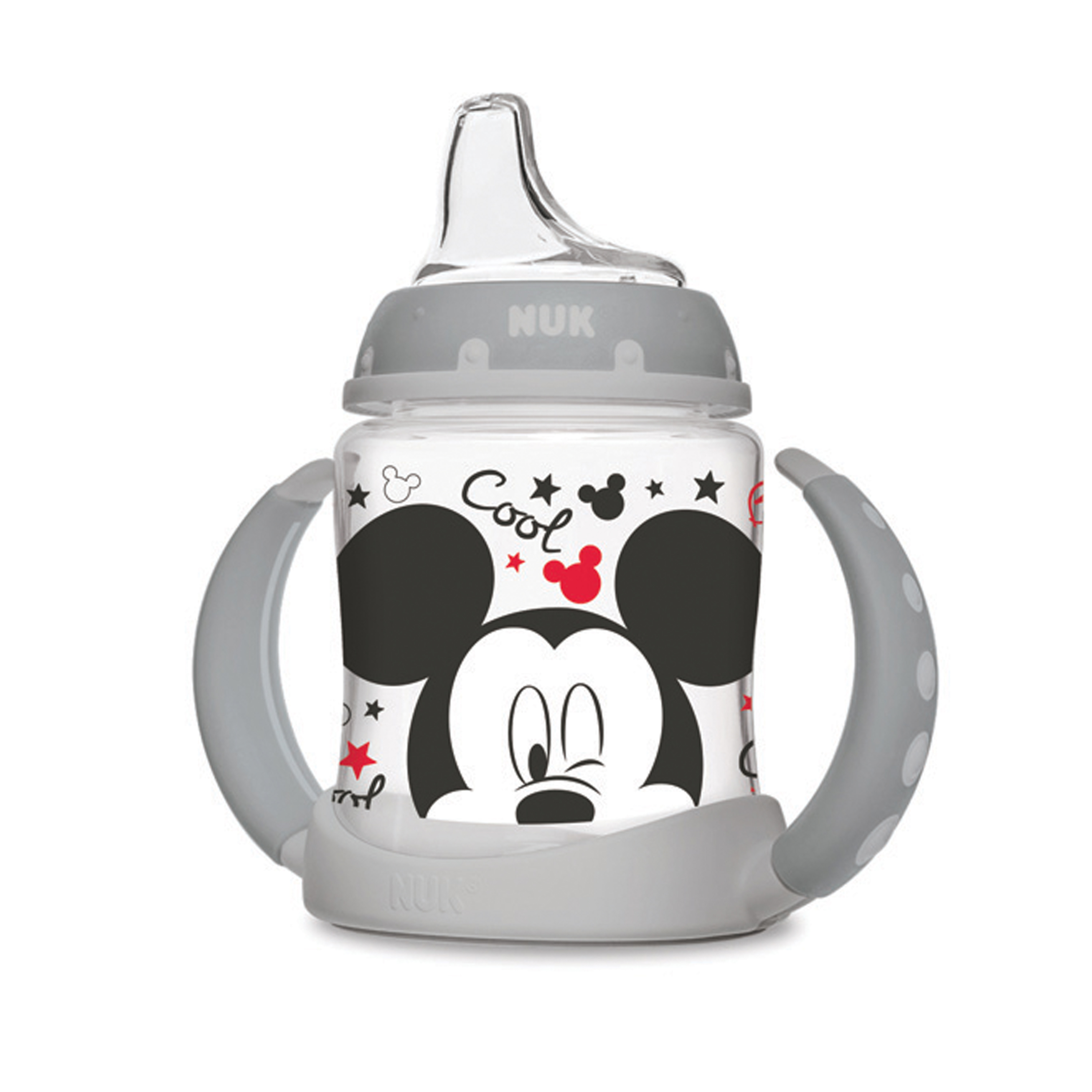 These Nuk Learner Cups were by far our favorite sippy cups when Lily was first starting off. Lily caught on with them really fast since they have a soft spout and easy grip handles. The measurements on these are actually even numbers, so perfect for formula. And it all comes apart, so very easy to clean. No leaking! They also come in different sizes and styles.
The only downside with these was that as Lily got older, she kept chewing on the tips and eventually tore holes in them, which meant leaks… I've retired them now.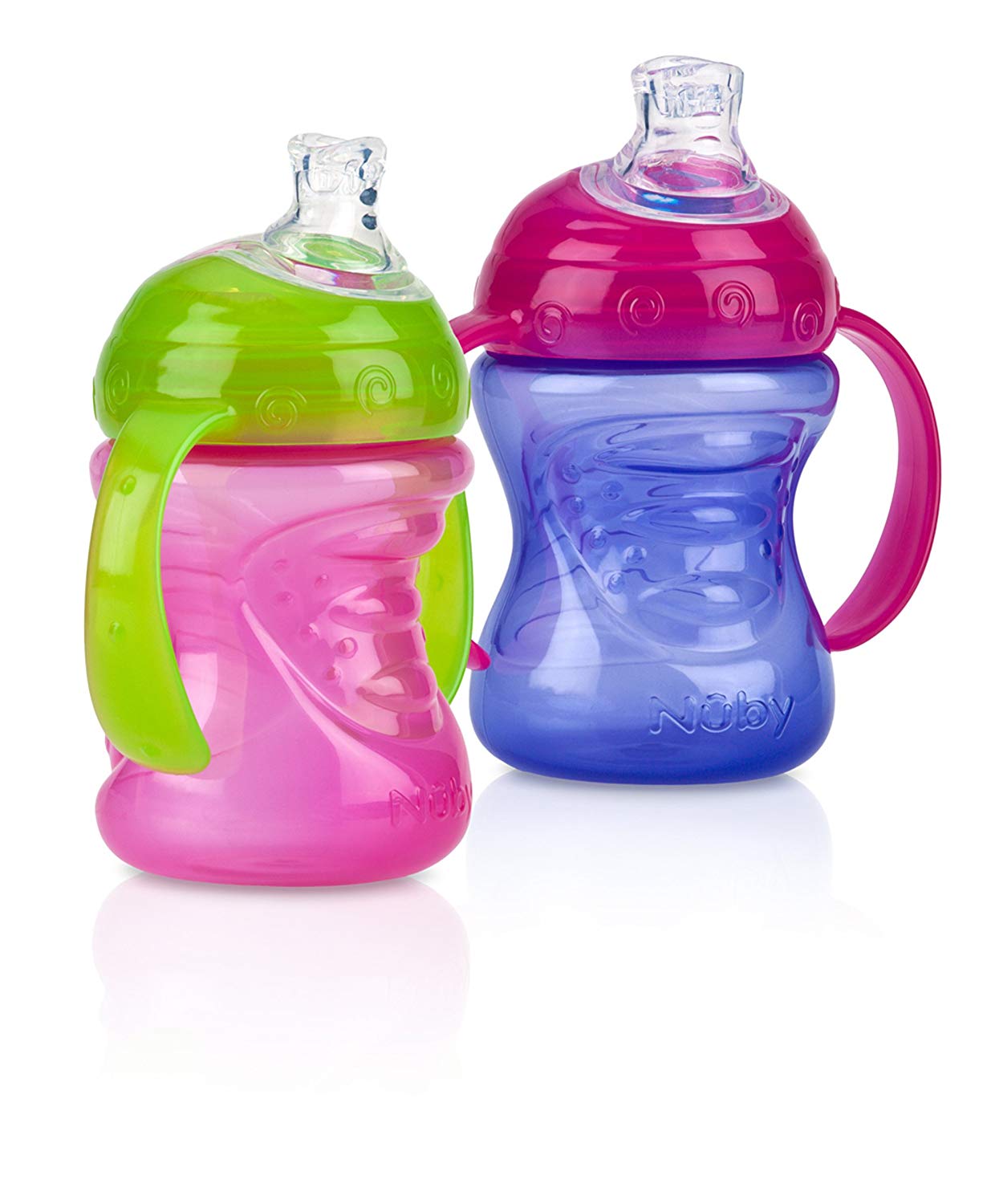 As Lily got older, I decided to try a variety of cups to see what would work best. I grabbed just one of these at Walmart for a pretty cheap price. You can get a two pack from Amazon for just $11. I liked that it was inexpensive, so if we lost it, no big deal. It was also an easy one for Lily to hold and pretty easy to clean.
However, I really do not recommend these particular Nuby cups. The silicone area around the spout twists as you twist the lid closed. Hard to explain, but it's really weird and if I have to use this one, I can't close it too tight or it makes a gap at the top. Basically, it leaks really bad. I do know that Nuby makes other cups that I'm sure are better, I just haven't tried any yet.
This was another Walmart grab. They're also available on Amazon. This is another really inexpensive cup so I'm not worried if it gets lost or ruined. It actually is quite leak proof and it's easy to clean. It's probably one of my favorites for milk now that Lily is older and likes to carry it around the house.
However, since it doesn't have handles, it took Lily a while to learn to grab it. That's about my only gripe about it though.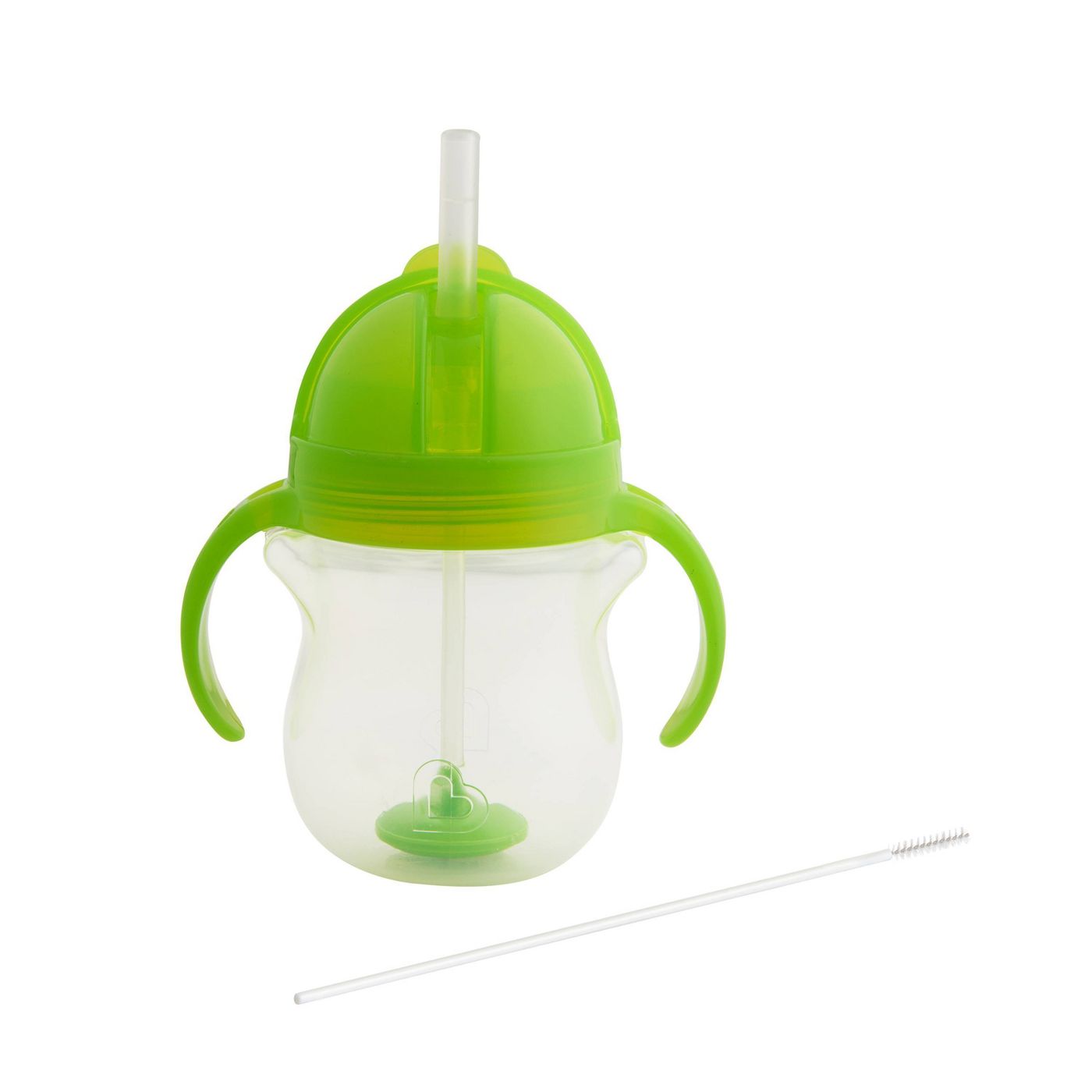 This was an excellent cup for learning how to use a straw! It's a weighted straw, so even if baby tips it like a sippy cup, they can still suck it through the straw. It has handles, which again is great for the little ones.
However, I am not a fan of how hard it is to clean, so I never put milk in it. Although, it does come with a straw cleaner, which is nice (I'm just lazy). And with ours, sometimes it would leak and sometimes it wouldn't. I just learned not to trust it and we don't use it as much anymore.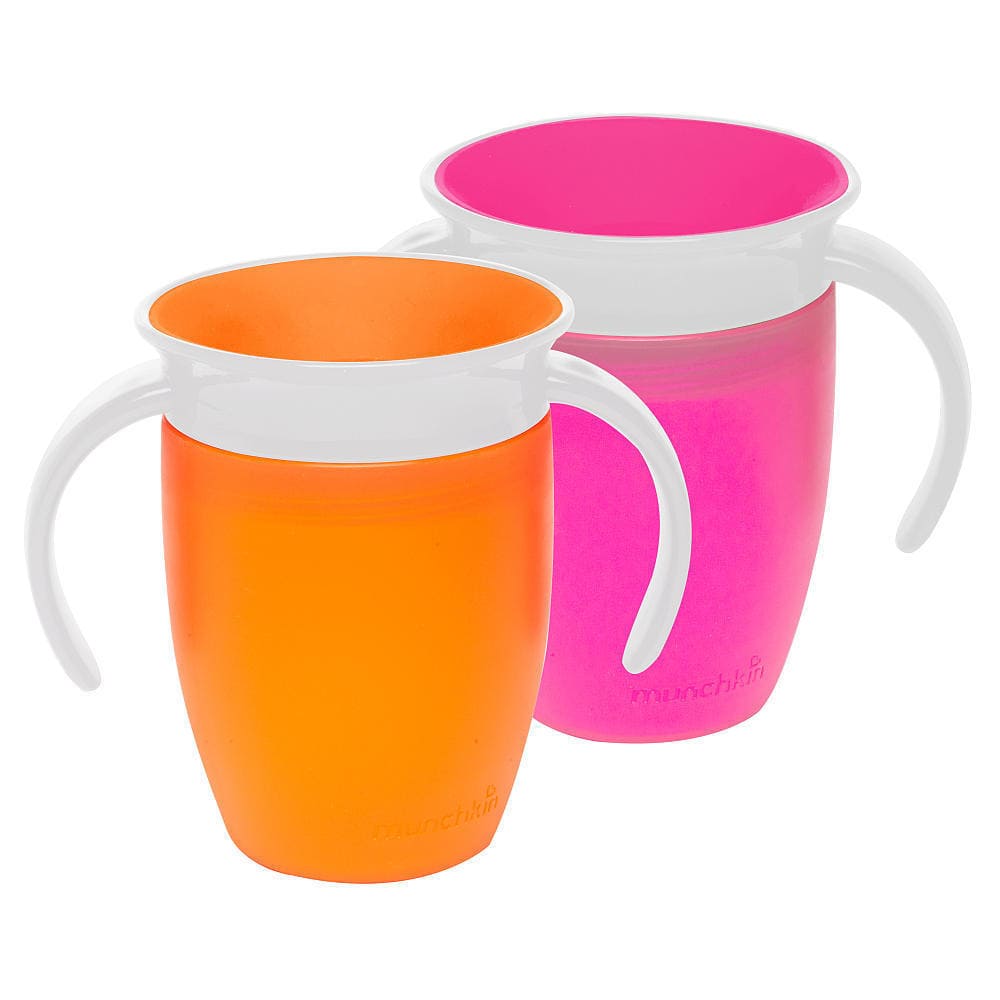 I love these 360 cups! They don't leak and they're very easy to clean because they come apart. I throw them in the dishwasher. And they are so great for learning to drink from a cup.
It does take a bit of practice for baby to get the hang of it. They have to tip it and suck a little, but it's amazing how there's no mess! It took Lily a few months to get the hang of it, but now she's a pro. Another con… if it's dropped on it's top, it tends to spray out, so maybe not for kids who like to throw cups.
I recently grabbed these straw cups for on-the-go. I liked that they were inexpensive incase they were misplaced. They're insulated which is nice for the summer time. I love them for just filling with some ice water and throwing into the diaper bag. They are leak-proof…
However, when you open the straw, it sometimes bubbles up and spills over the sides. It's also not the easiest to clean with the straw, but it is dishwasher safe.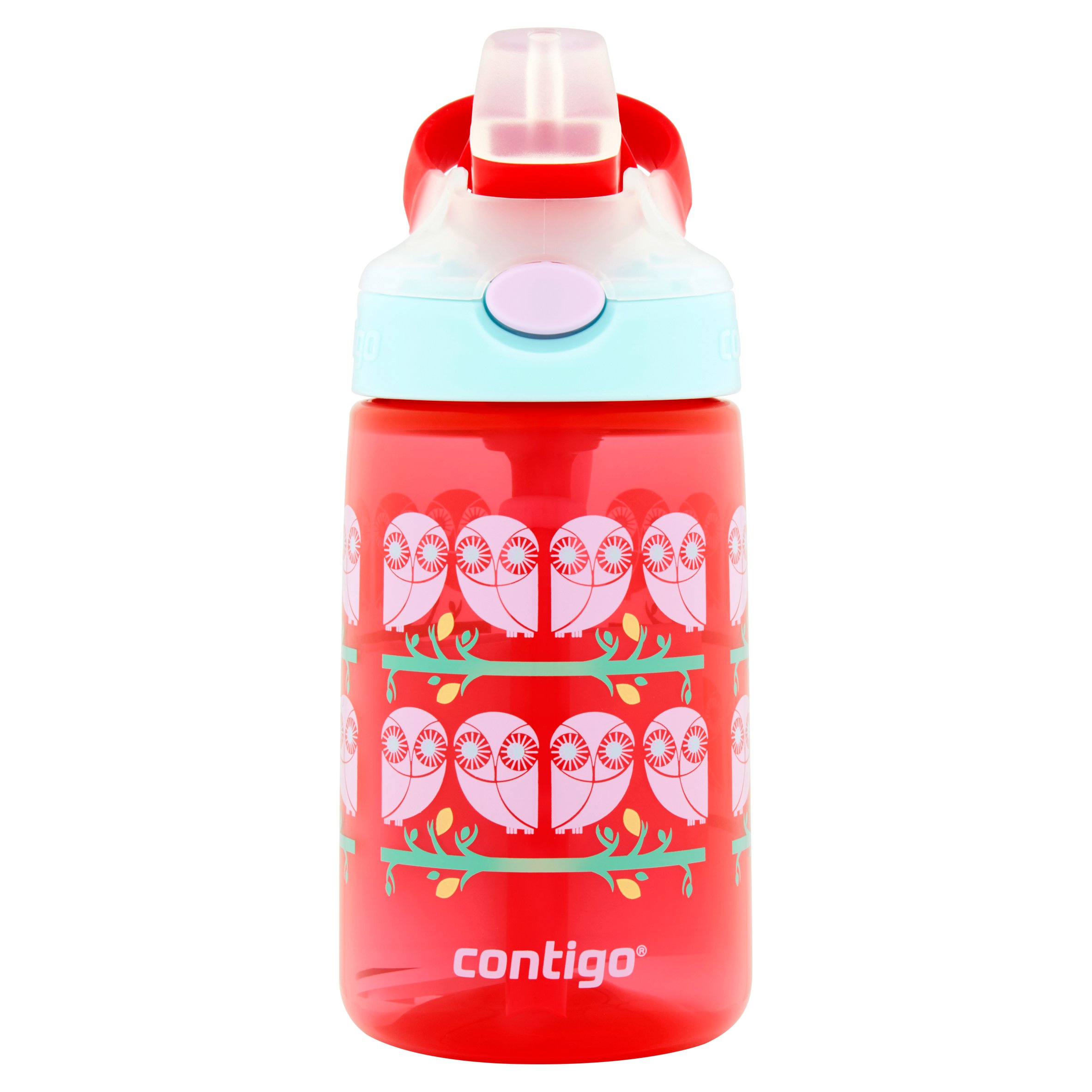 I think this one was a TJ Maxx find… Lily's has dinosaurs on it. There are lots of designs to choose from on Amazon. This is my favorite cup for water! It does not leak even a bit. I love that it closes and can be opened with the button (which Lily hasn't quite figured out how to do yet). It's really easy for her to drink out of. I also like how durable it is since she tends to drop it often. The straw and lid and such come apart so you can just throw it all in the dishwasher. Another great one for on-the-go.
However, these are a little bit more costly, so I worry about losing it. And I wouldn't probably put milk or juice in it since it has so many parts to clean.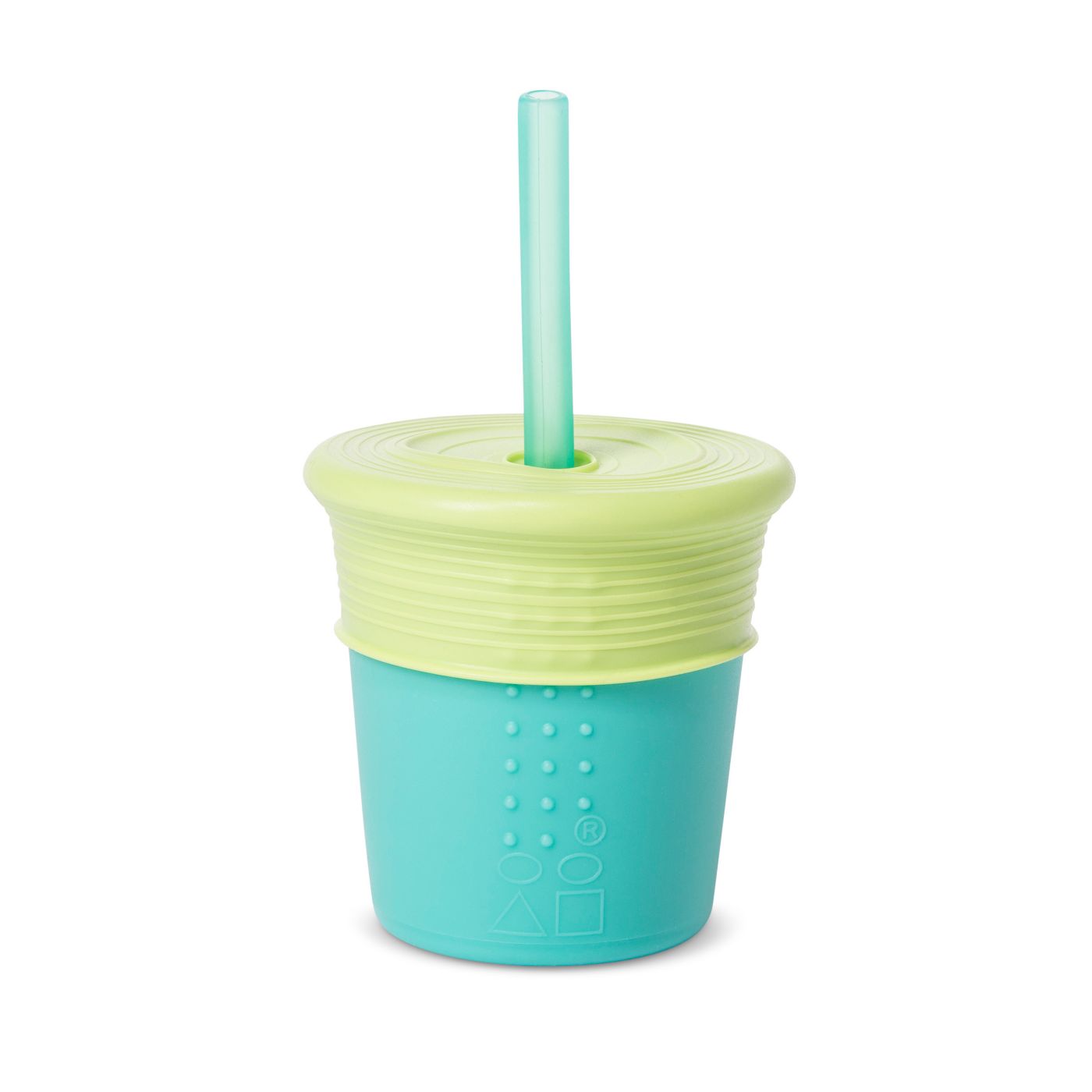 I just thought this cup was really neat. The silicone lid is super stretchy and can actually fit on most regular cups. I bought it thinking it might be nice for stuff like smoothies and shakes.
It'll probably be great when Lily is a bit older, but it's definitely not leak-proof. And I was actually surprised how little liquid it actually holds since the walls of the cup are so thick. I let her use it if we are having smoothies outside.
---
And there you have it! These are all of the sippy cups that we have personally tried. If you have any recommendations on cups that you like (or really dislike), please mention it in the comments! Lily is due for some new ones, and I'd love any feedback!
---
If you liked this blog post, press like below! And if you want to share it with others, click the social media links below. And I would love to hear back from you… feel free to leave a comment!
Like any of the products I mentioned? Please purchase them via the links provided.
Want to be the first to know when I post a new blog post? Subscribe by entering your email at the bottom of the Home Page.
Your support is very appreciated!