I've written a couple blogs about products that are "must-haves" for newborns and babies up to 12 months. For newborns, I have the 10 Must-Have Baby Products (0-6 months) and then there's Must-Have Baby Products (6-12 months). But today, I thought I'd give you a list of baby products that I feel are, in my opinion, unnecessary.
Of course, some parents might find these products totally necessary and really like them. This is simply my own opinion and it's merely here to help when you are making a baby registry or deciding what to buy. Every baby is different and every parent is different.
1 – Wipe Warmer
I'm sorry, but I think these are kind of ridiculous. I mean, maybe there's babies out there that scream bloody murder when you wipe their butt, but I have never had an issue wiping Lily's with an all natural room temperature one.
Now, granted, it looks like these aren't too pricey, so if you want to get it, by all means, go ahead. But, I just feel it's a bit silly and a waste of money.
2 – Diaper Pale
Here's where a lot of moms will probably argue with me. I hardly know a mom who doesn't have a Diaper Genie or something like it. I, personally, think having a special trash can for diapers is quite over-the-top. I bought a simple step-on trash can from Target. I put a grocery sack in it, and I change it when it's smelly.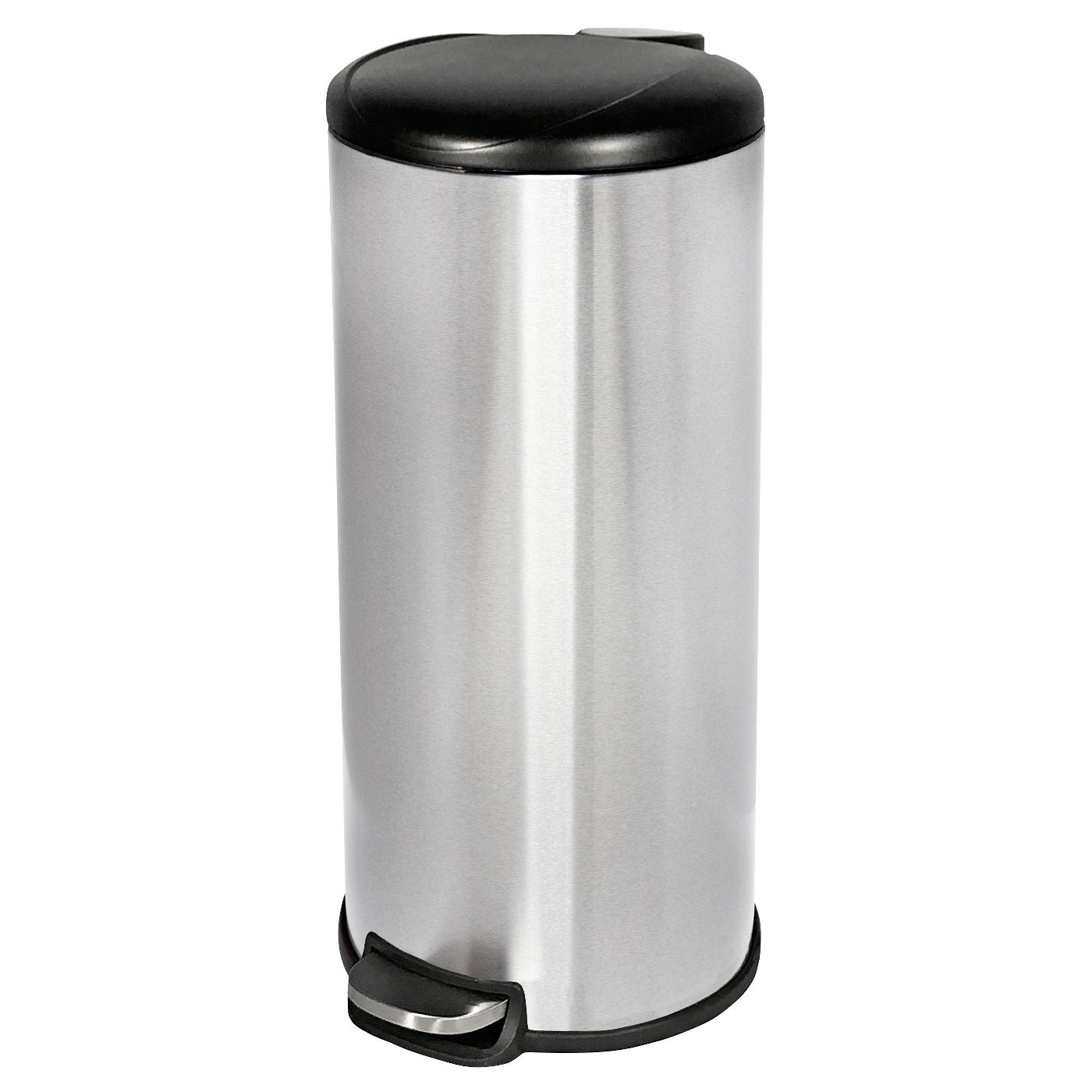 For a larger trash can like this, it's $40. You can get a smaller one for $15. Grocery sacks are free. It seems more cost effective to me than the refills for diaper pails, and it's one less thing to add to my list of things to buy. Plus, I can reuse the trash can wherever I want when we're done with diapers!
Again, this is my opinion, and my method works for me. A diaper pail might be the right choice for you and your stinky little one.
3 – Every Single Baby Holder on the Planet
There's baby swings, bouncers, rockers, bassinets, slings, sleepers, seats, activity centers, walkers, Bumbos, playards, carriers, high chairs……… this list is ridiculous, people! And no, you don't need one of each. Honestly, if you can, get the very essentials for a newborn like a bassinet and swing, and then go from there. You'll learn over time what is important to you and your baby.
In our house, we ended up needing just a swing/rocker and a high chair. She was in her swing most of the time, and then we put her in the high chair when we wanted her close in the kitchen/dining room. When she wasn't in one of those, we were holding her or it was tummy time on the floor.
Now, as they grow, you might decide to add more. We have a Chicco Playard for traveling. And we got the Joovy Spoon when she was ready for it. We also have a carrier for going out and about.
But, eventually, they just start crawling and walking and they no longer need any of it. Just take your time in deciding what's best so you're not stuck with a bunch of expensive things you don't use.
4 – Diaper Bum Brush
This one just makes me giggle. Okay, it's only 10 bucks, so go for it if you think it's necessary. But around here, we use Aquaphor, which works like a charm on diaper rashes and you simply wipe your finger on the diaper when you're done.
I guess, if you need a super strong diaper rash medication that's really sticky, this might come in handy. But I feel like it's a silly extra step to take for no reason.
5 – Baby Food Maker
This is one that you, as a parent, might get some use out of. But, personally, I'm glad I didn't buy this or put it on my registry. I always thought I would be the mom that made homemade baby food purees. And I was for like a week… then I discovered Baby-Led Weaning.
No purees, whatsoever. No blending, no freezing in cubes, no spoons, no bowls, no tired arm from spoon feeding. I'm telling you, at least look into Baby-Led Weaning, because it's worth it. Oh, and read my blog about it, Baby-Led Weaning… it's worth it!
6 – Owlet Baby Monitor
When I was pregnant with Lily, I was convinced that this was the greatest product ever. I thought for sure it was worth all $350. Complete peace of mind, right? But alas, we never did spend the money on one, and believe me, I still slept when she slept.
I do think that these are really neat. There's a lot of super expensive baby products that would probably be great to have, but they really aren't 100% necessary. This is one of those that if you have the luxury of purchasing one or receive it as a gift, you'll probably love it. But, parents have gone without them for forever, and so did we. Just practice safe sleeping and use a simple sound or video baby monitor.
7 – Bath Kneeler
I am cracking up right now. Like, really? This thing is $30 on Amazon. I'm sorry but… use the rug or fold a dang towel and quit your whining. And apologies if you have one…
8 – Fancy Baby Utensils
Okay, so this is probably different for every parent/kid, but I bought several different sets of learning utensils for Lily. These particular Grabease ones are $15 for the set. Come to find out… she does best with just a regular salad fork. So, my recommendation… start with an inexpensive set of utensils (obviously, you still need little spoons) and go from there. Perhaps your baby will really get the hang of it with the fancy ones, though!
---
Once again, these are all from my personal experience, and are my personal opinions. You might not agree with any of them and will buy all of these anyway. Like I said… every parent and baby are different and these products might be perfect for you and your little one.
Have you had any other bad experiences with baby products that I didn't mention? Let me know in the comments! I'd love to get the word out to other parents.
---
If you liked this blog post, press like below! And if you want to share it with others, click the social media links below. And I would love to hear back from you… feel free to leave a comment!
Like any of the products I mentioned? Please purchase them via the links provided.
Want to be the first to know when I post a new blog post? Subscribe by entering your email at the bottom of the Home Page.
Your support is very appreciated!